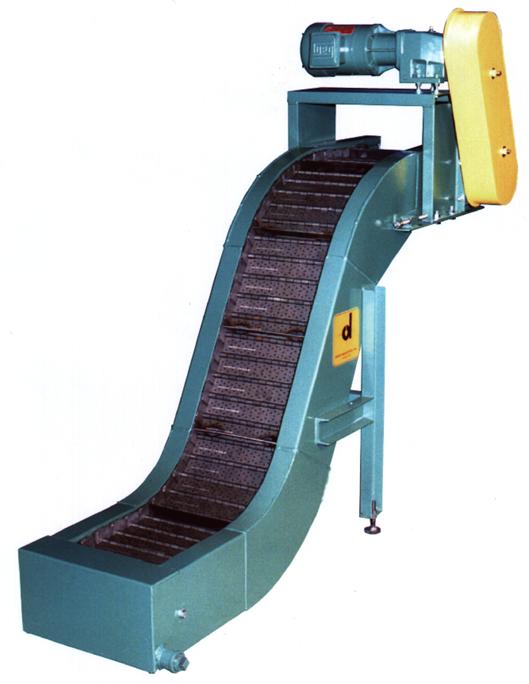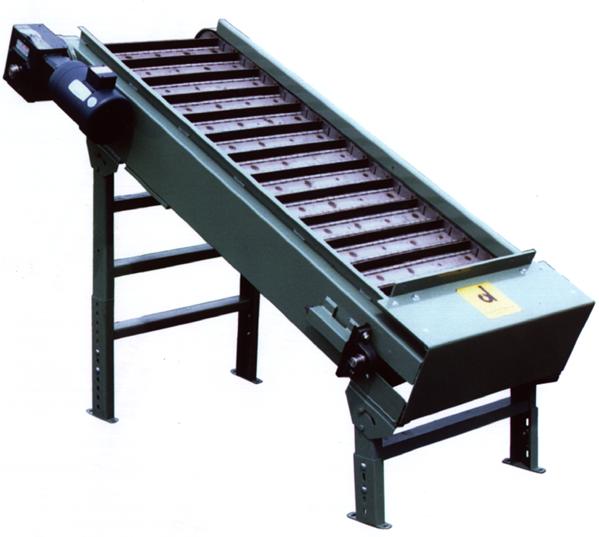 Application:
Ideal for handling  parts, stampings, fasteners, forgings, scrap turnings and chips - wet or dry, hot or cold.  The smaller, 2-1/2" pitch units are ideally suited to complement CNC/NC lathes and machining centers.  Low profile designs are available in all belt pitches to accommodate most modern production equipment.  Each unit is individually engineered and manufactured to specifications of machine tool layout, material conveyed, production rate, coolant volumes, etc.  A wide range of widths, lengths, inclines, and belt paths are available.
Design:
*Belt Pitches:  2-1/2", 4", 6", 9".
*Belt widths from 3" to 60" (depending on pitch).
*Plain, Perforated, Dimpled conveyor belting.
*Belt cleats to suit.
*Inclines at any angle from 5 to 90 degrees.
*Heavy gauge formed conveyor channels.
*Abrasion resistant belt tracks.
*Structural Channel supports.
*Totally enclosed drive guards.
*Torque limiter overload:  friction disk, shear pin,
  or electronic "shock relay".
*Flame cut steel belt sprockets.
*Heavy duty top mounted worm gearmotor
  drives.
*Belt speed to suit application.
Options:
*Coolant/lubricant quench tanks to suit.
*Infeed Hoppers and discharge chutes to suit.
*Liquid tight bottom pans.
*Straight or flared side guides.
*Removable top covers, plain or reinforced.
*Chain driven wire mesh belting.
*Extra rows of side wings for belt partitioning.
*Shaft mounted gearmotor drive.
*Reinforced conveyor belting.
*Smaller units can be made portable, using
  casters.
*Except for conveyor belting, units can be
  manufactured from stainless steel.
*Variable speed drives.